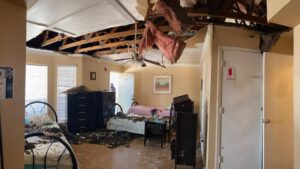 The first step you need to take if you've suffered storm and wind damage to your property is to determine what to do. There are many steps involved in repairing storm damage, and you may not know where to begin. Among AquaTex's experts are those who understand where to start when dealing with water damage.
There are some destructions that are obvious, like a ripped-off back porch or an overturned tree. There are other not-so-obvious cases, such as mold growth and mildew, that need to be addressed. Storm restoration services will be needed if your property is damaged due to a tornado or thunderstorm.
Here at AquaTex Water Damage Restoration, we offer comprehensive storm restoration services to Frisco, TX residents. Find out more about how we work below.
Why You Need Our Services
Your property is not designed to withstand extreme and abnormal weather conditions, no matter how great it is.
Any of these high-impact natural disasters can be addressed by our wind and storm restoration services:
Following any of these occurrences, you will need the following issues addressed:
Emergency boarding:

To prevent further storm damage, we can board up your windows and doors after a storm to prevent intruders from entering.

Water and wind damage repair

: There are a number of services your property may require, including dehumidification, water removal, drying, and mold remediation. Wind damage can also result from missing shingles and siding, as well as a leaking roof.

Reconstruction

: It is quite common for heavy rain and wind to result in the need for reconstruction rather than repairs in cases where heavy rain and wind occur. To rebuild your structure optimally, we consider the materials, finishes, and design of your home.

Insurance claim assistance:

Without the right financial support, this cleanup can cost quite a bit. We can assist you during the claims process and also ensure that your storm repair is approved if you plan to file a claim.
A lack of proper training and techniques can result in inefficiency and danger when dealing with these issues. AquaTex Water Damage Restoration has storm repair experts who can handle the process for you.
How AquaTex Water Damage Restoration Service Can Help You
Why should you choose AquaTex Water Damage Restoration out of all the storm cleanup and restoration companies in Frisco, TX?
Here are just a few factors that set us apart from others in the area:
Efficient service:

Whenever you contact AquaTex Water Damage Restoration, we always respond as quickly as possible. By doing so, we will be able to begin our storm cleanup and restoration services as quickly as possible. Getting you and your family back under your roof is our goal.

Trained professionals

: AquaTex Water Damage Restoration's storm cleanup experts are fully licensed, trained and insured to handle any restoration work you require.
Customized reconstruction services: Depending on the type of building and degree of storm damage, each property will require a different level of storm repair and severe weather restoration services. Depending on your property's needs, we can provide customized reconstruction services.
Get in Touch with AquaTex Water Damage Restoration Today!
In Frisco, TX, natural disasters are devastating to property owners. Storms happen with little warning, and you may not be prepared. We aim to take some of the stress away from dealing with the aftermath of a natural disaster. 
AquaTex Water Damage Restoration can help property owners recover from such destruction if they have recently suffered such damage to their homes or businesses. Ensure your property is in perfect condition by contacting us today.