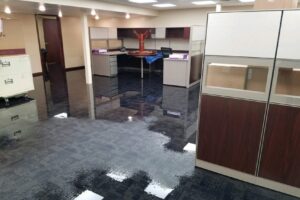 Whenever a leak causes water damage or mold growth in your building, AquaTex Water Damage Restoration can remove all mold, mildew, and moisture. Find out more about our commercial restoration services by contacting us today.
For any questions or concerns, feel free to contact us at (469) 536-0580 anytime. Call our service agents the moment you notice mold in your building, and they will schedule a visit for our team right away.
The IICRC-certified technicians of our company will address every cause of mold and water damage, including:
Overall comprehensive disaster restoration

Remediation of all water damage

Fungi and mold infestation decontamination

Black water cleanup

Mildew deodorization

Water extraction and drying

Deodorization services

Toilet overflow sanitization

Cleanup of tar and ash residue

Mold spore testing services

Smoke stain cleanup and odor removal
Water damage to commercial properties, such as apartment buildings or retail stores, should be repaired immediately. You can call AquaTex Water Damage Restoration today and we will arrive within 45 minutes to begin providing services. If you would like to reach us, please call (469) 536-0580.
Prepare for Power Outages In Your Building During Storms
During storms and other severe weather conditions, your power grid can be overwhelmed, which results in blackouts and power outages. The installation of a standby generator can help you prepare in case you lose power during a storm. Keeping your sump pump running during heavy storms can even help prevent flood damage. Natural gas or liquid propane is used to power generators, which are usually located outside your home. Through direct connection with your household's electrical system, it automatically restores power within seconds after a power outage.
A smaller, portable generator can be used in cases where large generators are too expensive. In addition to being able to run a few appliances and lights, they use the same type of fuel as permanent ones. Our Frisco commercial property damage technicians can begin same day services if a power outage has resulted in leakage or flooding damage to your building.
Call AquaTex Water Damage Restoration at our number (469) 536-0580.
Our Water And Mold Removal Pros Will Be There For You Day Or Night
We maintain a 24-hour office because of two reasons. You can count on us to be your shoulder to lean on as soon as the incident occurs so that we can get started on the mold and water damage cleanup.
Our passion for what we do is second to none. In addition to maintaining your well-being, our workers place a lot of importance on customer service.
The financial impact of flooding in a building can be overwhelming, especially in terms of its severity. This is why we offer affordable rates on all commercial property damage restoration and work with all insurance companies.
You don't have to do anything until we file your claim, so you don't have to worry about it.
AquaTex Water Damage Restoration will ensure that you get the fresh start you need after you notice water invading your property. Please contact us right away if you notice water invading your property.
We can help you with water damage restoration by calling (469) 536-0580.