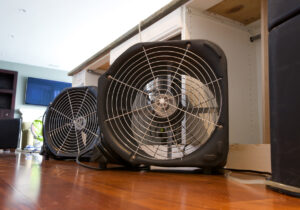 Protect & restore moisture-sensitive materials with complete drying
In the event of a flood or another water-related disaster, some materials cannot survive. As long as the drying process is carried out quickly and thoroughly, many materials can be dried. Therefore, if you have a water disaster, you should call AquaTex Water Damage Restoration immediately.
We have expert emergency crews on call 24/7, so we are able to minimize the damage to your property and restore it to its original condition as quickly as possible.
Stop mold growth and harmful bacteria
Floods and other water disasters must be pumped out and quickly dried to prevent mold and bacteria from growing. The spread of mold is caused by airborne spores, which are attracted to moist organic materials that can provide food for the mold and provide it with a growing medium.
Natural fibers (cotton & wool) and absorbent organic materials (wood, paperfaced drywall, leather) are the most likely to acquire mold spores. We can quickly dry and dehumidify materials and air using our specialized, heavy-duty equipment. As a result, mold growth is discouraged, and water-borne bacteria are eliminated from the growing medium.
Act fast to remove moisture from water-damaged walls, floors & ceiling
Following the removal of standing water, moisture must be removed. It is especially useful when outside humidity levels are high to use a dehumidifier to speed up the drying process. Water Damage Restoration will begin water removal and drying as soon as possible to ensure your structure and materials are completely dry and mold and mildew are kept at bay.
Other common water damage repairs include:
Water pump out

Debris removal

Building & surface cleaning

Content storage & cleaning
Carpet cleaning

Furniture cleaning

Sanitizing & deodorization

Document & media recovery
Count on us for other water-related disaster restoration services
Our dehumidification services are available wherever you need them at AquaTex Water Damage Restoration. We can remove all moisture from flooded basements, clogged sinks and flooded bathrooms to prevent mold damage that can cause an even more serious problem. 
Why should you endure the anxiety of hiring dozens of contractors to handle different aspects of water damage restoration when your property has been subjected to a disaster related to water? One call does it all when you contact AquaTex Water Damage Restoration. As a complete recovery service, we have the tools and training to handle everything from beginning to end. Moreover, our experts will come to your site right away to meet with you and your insurance agent.
Call (469) 536-0580 or get an online quote for fast, effective dehumidification in Frisco and throughout Texas.